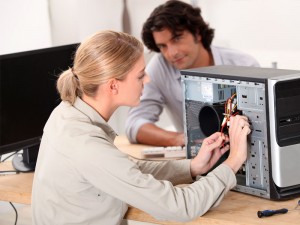 Would you rather have the cost-savings of outsourcing or the strategic capabilities of an IT manager?
With Professional IT Support from 2Clix you can have both. Professional IT Support is a fresh approach to IT management that maintains and optimises your infrastructure, plus puts high-level talent and expertise at your disposal.
What makes up Professional IT Support?
Professional IT Support is made up of several elements, all designed to help your business achieve more and gain an edge over the competition. It is the most advanced package in the marketplace and gives you:
Monitored network and infrastructure ensuring any down time is caught and fixed before you even realise.
A full annual strategy review at the start of your contract and yearly after that.
On-going management through regular IT manager visits, supported by on-site maintenance.
On-demand support with a guaranteed 10-minute response time for critical problems.
Clear communications and close relationships with 2Clix's technical team who know your people and your business.
A return on investment calculator so you can work out how much you are saving, year on year.
Just Call us on 02392 984666 for more details and the information pack.