IT Security Audit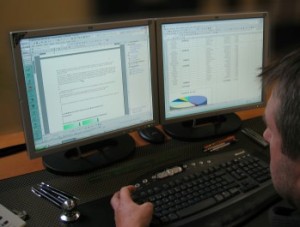 You may suspect or know that you have a security issue, or you may be considering implementing a security standard such as ISO27001 for your business. Whatever the reason, an IT security audit from 2Clix provides a snapshot of your current situation, highlights any vulnerabilities, plus gives you a clear roadmap to reach the security levels you want to achieve.
The scope of the audit, the testing procedures and the structure of the final report can all be tailored to your specific circumstances. The audit covers both the technical and non-technical aspects of security. That means our IT security specialists conduct a full audit of your network, user permissions, firewalls, remote access, anti-virus protection etc. In some circumstances we may need to undertake a full penetration testing exercise as part of your Security Audit.
In addition to the technical aspects, we interview key technical and non-technical staff and review your policies, procedures and documentation. An integral part of the security audit is also assessing your disaster recovery and business continuity plans, and their implementation procedures.
2Clix's Security Auditing Team are CISSP certified with a minimum of 5 years real world security experience. You benefit from their expertise and knowledge gained from many other security audits. Our Security team will pursue any anomaly or area of concern to its ultimate conclusion to ensure they have correctly diagnosed any security issue and not just reported on a symptom.
Just Call us on 0845 508 3338 for more details and the information pack.