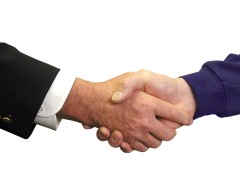 Customer Service Skills for IT and Technical Professionals
2 Day Course

@ £198 Per Person Book Now
Communicate professionalism, gain respect, enhance relationships and secure the competitive advantage.
When your business dealings are all internal, your colleagues are also your clients. How you handle them can directly affect your individual goals as well as your team's and company's performance. In this seminar you will gain the knowledge, skills and attitudes to meet and exceed client expectations, improve communication and solve problems creatively to deliver the best results.
Who Should Attend
All professionals in IT and technical fields, including database consultants, applications specialists, IT directors, CIOs and professionals in electronics engineering, R&D and Web development.
How You Will Benefit
Deliver better, faster service and increase client satisfaction
Know what clients expect
Increase your credibility—and your value to your organization
Manage stressful situations more effectively
Recognize the signals of customer irritation—and how to respond appropriately and assist in quickly finding a workable solution to your customer's problem
What You Will Cover
How customer service creates revenue and healthy organizations
Maintain professionalism under pressure: how to use mental strategies and body language to control your emotional state
Honour negative emotions positively
Focus on customers' top two expectations to save time and reduce stress
How to avoid takings things personally
Expand your communication skills
Enhance listening strengths and reducing liabilities to create better rapport
How to avoid creating negative impressions with words
Use persuasive language patterns
Stand out on the telephone
Write e-mail that customers will read and understand
Respond effectively to specific "difficult" customer behaviour
The physiology of anger
Turn an angry customer into a happy customer
Apply emotional management tools