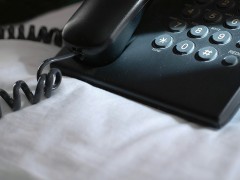 Telephone Techniques
1 Day Course

@ £99 Per Person Book Now
Course Aims
To confidently and effectively communicate using the telephone, to become a well organized competent professional using the telephone.
Objectives
To understand the difference between face to face and voice communication. Understand the need for clear and concise understanding between all parties. Understand what constitutes excellent Customer Care. Agree on the importance of professional telephone techniques. Provide effective questioning and listening techniques. Recognize why it is important to own the call. Deal with difficult/angry callers. Develop a personal action plan.
Group discussion is an integral part of this course with role-plays used to learn how to put your newly learned skills into practice.
Effective Communication Skills
Why Communicate?
Types of Communication
Problems of Communication
Voice & Tone Control
Body & Verbal Body Language
Your Voice
Using the Right Tone
R.S.V.P
Tone on the Phone
Questioning & Listening Techniques
Asking Questions
Types of Questions
Using the Right Words
Listening Skills
6 Rules for Listening
Why Do we need to Listen?
Why Don't we Listen Well?
Developing / Improving your Listening Skills
Listening Techniques
The Telephone
First Impressions
Answering the Incoming Call
Answering the Phone-Direct from the Switchboard
Answering the Phone-Dial Pick-Up
Taking Notes / Information
Message Taking
The Equipment Required
Telephone Manners
Common Frustrations when using the Telephone
Using Voice Mail / Mobile Phones
Putting Callers on Hold
Whilst a Caller is on Hold
Transferring the Call
Taking a Transferred Call
When a Caller is Transferred to the wrong Department
Call Waiting
Distractions / Attitude Problem
Terminating Prolonged Conversations
What to Do?
Building Relationships with Customers
Assertiveness
How to Develop Expressiveness / Assertiveness
Results of Behaviour Types
Why do Customer / Callers Get Angry?
Handling the Angry / Complaining Callers/Customer
Do's and Don'ts
Handle it in this Way Attitude
Follow Through
Summary
Lasting Impression
Planning the Outgoing Call
Pre-Planning the Call
Checklist
Potential Pitfalls of Using the Telephone
Telephone Guidelines